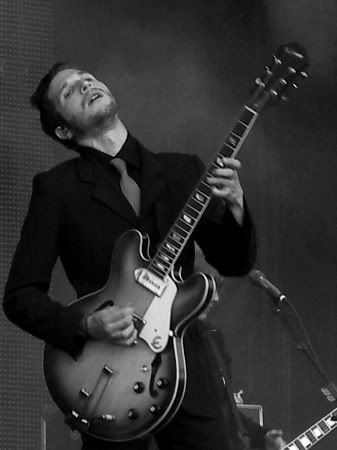 Lots and lots of gigs on the horizon here in Ireland.
Quite astounding how spoilt for choice we actually are.
I'm most looking forward to the best dressed band in music land at the RDS on December 2nd though.
Unfortunately, the incredible Blonde Redhead are only supporting on the UK dates so we wont get to see Kazu Makino strut her stuff around the stage.
There is an amusing aspect to the gig that night on the 2nd.
Interpol are obviously playing in the Main Hall at the RDS.
And right next door in Simmonscourt is
Rihanna
of all people.
I can't quite see an amalgamation of both sets of fans after both gigs have finished: The black-clad, psychotic pretentiousness of the Interpol ones mixed with the orange skin, platinum blonde, white-leather wearing Rihanna
jokers
.
Interpol
have released one of the albums of the year.
I know a lot of people will disagree with me and use the same old miserable excuses (they're one trick ponies).
But
fuck
, if I had a pony who was able to pen songs like: The Specialist, 5, Direction, Mind Over Time & Obstacle 1 (to name but a few) - then I would be chuffed.
I recommend you go onto ebay, stand on a street corner looking for a tout or anything else which comes to mind in order to get your hands on a ticket for this show.
Inbetween song banter: Hell no.
A tight-as-fuck setlist: Most definitely.
The below video features one of Interpol's best songs. It's called
Mind Over Time
and was a bonus track on the Japanese version of "Our Love to Admire."